Home
Welcome to Messianic Family Publishers and AMHE!
We exist to be a blessing to the Messianic Jewish community, to all Jewish and Gentile believers, and to homeschoolers. We publish books and articles to edify children and adults in all these communities.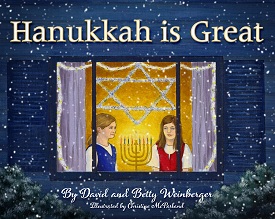 New from MFP...
Hanukkah is Great
by David and Betty Weinberger; Illustrated by Christine McParland
$20.00, postage paid
Hanukkah is Great Endorsements
Hanukkah is Great really is! It's ideal for explaining Hannukah not only to children, but to all of us who may lack understanding of Jewish traditions and holidays. Loved the illustrations.
Jerry McQuay, Senior Pastor, Christian Life Center, Tinley Park, Illinois
Young children will enjoy having their older siblings or parents read this book to them; older children will enjoy the slightly more-sophisticated form of this story book. So few quality books are available to Messianic families - I wish I had this one when my (now adult) children were younger!
Melissa Moskowitz, Jews for Jesus Young Adult Ministry, N.Y.C.
It is great to have children's books we can really use to convey the key stories of our Holidays. This book on Chanukah is especially good.
Dan Juster
Director, Tikkun Ministries, Israel
Description
Hanukkah is great. But why? Anja knows the answer... Catherine doesn't. Anja wants to introduce Catherine to one of her favorite holidays, but it doesn't seem to be working out too well. Will Catherine ever find out the answer? Come join Anja, Catherine, and friends in this beautifully illustrated story of Hanukkah, faith, freedom, and fun! For a look inside, visit the detail page by clicking here.